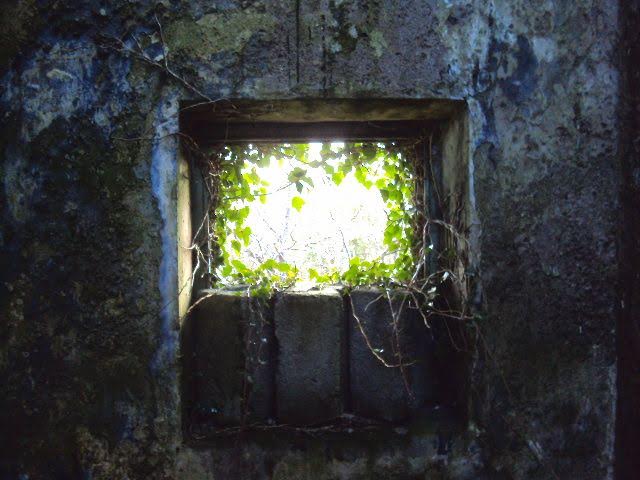 Everyone has their own ideas, budgets and plans for visiting Ireland on holiday. Us? Well, we had NO plans when we arrived here, not detailed ones anyway. We didn't arrange anything beforehand either and basically just winged it,  figuring things out (some the expensive way!) along the line. Apart from looking for a place we'd eventually like to settle into, our plan was to first spent a lot of time travelling around the country and exploring it and we did… This post is some tips for you for saving a saving a bit of money during your stay, along with some recommendations for getting the most from your time here.
First off: some money saving tips.
If you are planning to hire a car and drive on your trip, do not wait until you arrive at the airport before arranging a hire car. Booking a car online and arranging pick-up at the airport (they can and will have the car ready for you all hours) can save you a lot of money! Shop around before committing and book through a car hire agent that works with a number of different companies, if possible. It's a bit of effort, but it really will save you loads of €€€. To give you an example friend of mine got an absolutely loveable, almost brand new car for a 5 days for around €80 last year (2016). We picked up an arrive-at-the-airport-and-hire-a-car, a not-quite-as-nice (and 6 years older) model for about… A few hundred Euros more? Shop around and check out all your options!

When stopping for gas/petrol/diesel for your car, look at the price offered at a few filling stations before filling up. Prices shown are per litre and fluctuate quite a bit between the different filling stations and Murphy's law would have the first one you stop at be the most expensive one. Yep, been there! Believe me, after just filling up @ €1.49/litre at that one filling station in Cork and finding unleaded @ €1.37/litre at another in Tipperary I was not happy!

Next up, accommodation. Though it may make sense to book a room in a hotel, it's worth looking into B&B accommodation, which is wonderful and very affordable, with the added benefit of great hosts that will be only too happy to chat with you and tell you about the area, places to go, eat and more. One of our hosts helped us enormously when we told him we're after buying a car, warning us about potential pitfalls and frauds and even went online to find and print out car adverts for us. They will also arrange taxis etc for you, if needed.
When booking a B&B, avoid going through the first online booking agent you see. They add a commission and you end up paying way more than you will when booking directly with the B&B's owners. Rates vary greatly depending on the B&B, some may let any children stay for free, or at a reduced rate. If you are on a tight budget, shop around first. Out of season (during winter) many B&B's are closed, but there are many that stay open year round and vacancies in the slower months are easier to find. When we came over we drove around looking for B&B signs, stopped and asked if they had vacancies. It sometimes took up to five stops before we found a vacancy though. Also keep in mind that many B&B's are extensions of private homes, so start looking and enquiring late afternoon/early evening. The benefit of this flexible approach to accommodation is that it leaves you free to go about as you please and not have to be in a certain town or village on certain days. Most of the B&B's we stayed in were lovely and the hosts wonderful, except one in Cavan. The hostess was very unfriendly and our room was haunted. But that one thankfully was an exception on both counts! Air B&B bookings are gaining popularity in Ireland as well and is also worth checking out.
Food-wise… B&B's serve a good size "full Irish" breakfast (with healthier cereals and fruit for the less adventurous). When dining out, some of the nicest meals we had were in pubs. Delicious, generous dinners and very affordable too. If you are on a very tight budget, check supermarkets for ready meals and ask your B&B host if they'd heat it up for you. Otherwise, even the smallest Irish villages now host a Chinese or other foreign owned Take-Away/fast food restaurant, often locally known as the "chipper". These offer meals ranging from burgers, to fish and chips, kebabs and pizzas and some are really, really good! I've had burgers from "chippers" that would put MacDonald's to shame and at half the price of one from the more popular outlets.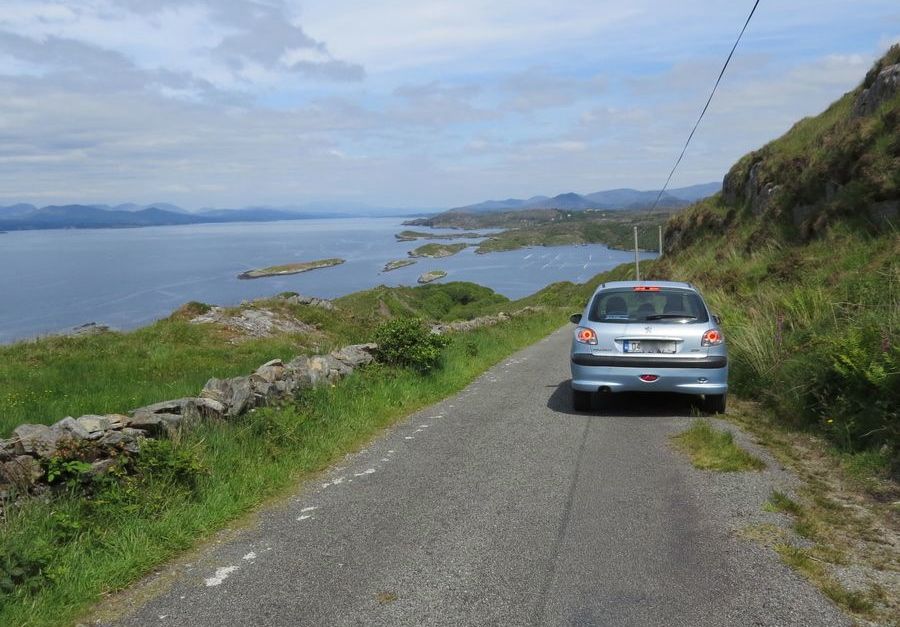 When traveling around Ireland, we didn't pick out "must see" places beforehand and drove around and explored spontaneously instead (and got lost frequently!) Buy a good road map book and get a good GPS, but allow for some "off the beaten track" adventures away from the main tourist attractions as well. I found some incredible places, castles, beaches and little villages by asking locals and just driving around, exploring. Not saying diss the tourist spots, but after paying to see the Cliffs of Moher, I discovered Achill Island's coastline is just as stunning, if not more so, and there is more of it too. (And it's free…)
If you want to see castles, the locals would most likely recommend the more well known ones, like Kilkenny, but I found incredible castles by exploring, like Lismore Castle, Co Waterford. I am crazy about castles and found there are many, many wonderful ones to explore here. Some are open to the public, some are on private land. I've started documenting the castles I found in the Irish Castles section.
There are lots of truly wonderful places here, villages, etc that are not well known. Be spontaneous and adventurous and ask locals. They know the best places and most of them are only to happy to recommend places or show you where to go. We picked up a hitchhiker near Cork city one day and he ended up showing us the region around Castletownbearhaven and the road up to Dursey Island, which is quite simply breathtakingly beautiful! He also recommended the lovely town of Eyeries and that region ended up becoming one of our favourite haunts.
I feel personally, that the best way to really experience Ireland would be to head off the beaten track, find and explore the smaller villages, follow the small roads, talk to the locals, be open-minded and be spontaneous. You never know what you'll find, but I can assure you, you will not be disappointed!
Some personal recommendations and quick tips:
If your time is limited, head South-west to Co Kerry and Co Cork and explore the coast line, go for a "jaunting car" ride in Killarney (it's well worth the money spent) and drive along the coast up towards Waterford, stopping along the way in places like Eyeries, Allihies, Glengariff, Baltimore, Clonakilty…
Co Clare is lovely too, with the curious "Burren", well worth a drive through and a stop. I lived in the Burren for about 3 months. It's an amazing landscape, quite unlike anything I've seen before.
If you head up the coast towards Mayo, clear a day or two for exploring the amazing Achill Island….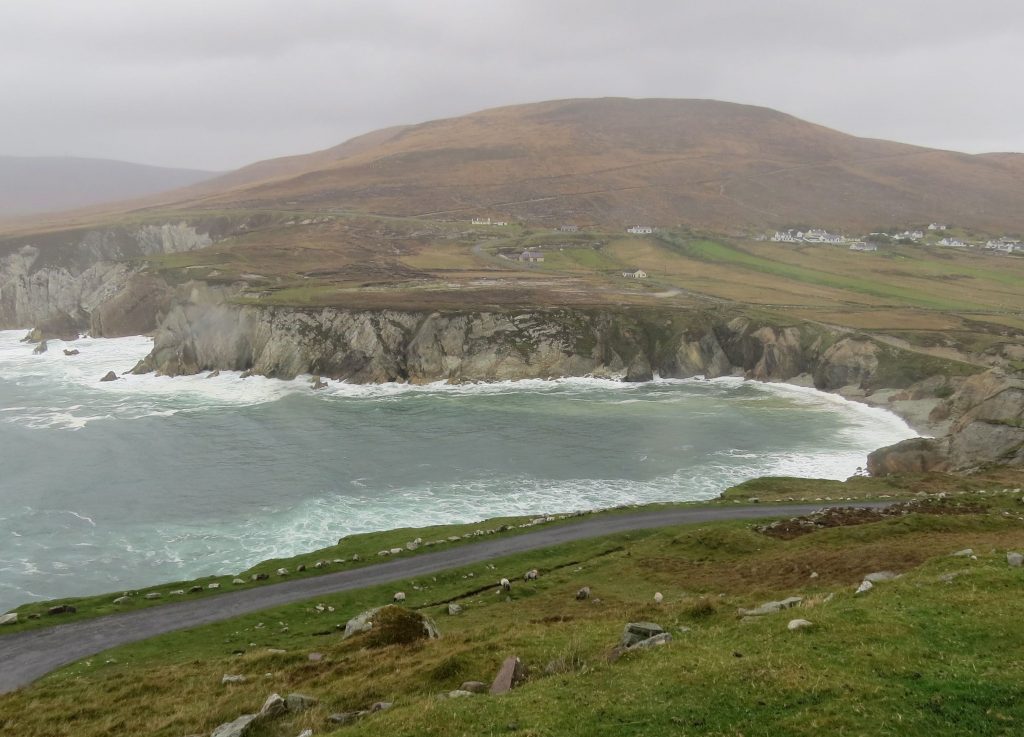 Pack clothing for all weathers (it's almost guaranteed to rain at least a little bit most days) and pack good waterproof shoes for exploring, especially around the castles. Note that Ireland is often wet, so make sure your shoes have non-slip soles!  The charm of an ancient ruin will quickly fade when you lose your footing and and land on a gorse (been there, done that… Those plants are mean!)
Make sure you always have some cash on hand, especially coins, for parking meters, toll gates, public toilets (usually 20c coins) and small purchases. Some shops require a minimum purchase of €10 for card payments. Many also offer a "cash back", so you can ask them to add an amount of up to €50 or so onto the transaction, which they give you back in cash.
If driving on the M50 around Dublin check in at the nearest filling station as soon as possible afterwards and give them your car's plate number so they can see if you have to pay the e-toll. (Chances are you would) The sooner you get that done, the better. We tried to pay ours later in West Cork at a shop that claimed they can take the payments, but couldn't, and nearly got fined!
Most importantly, keep your camera battery charged and have fun!