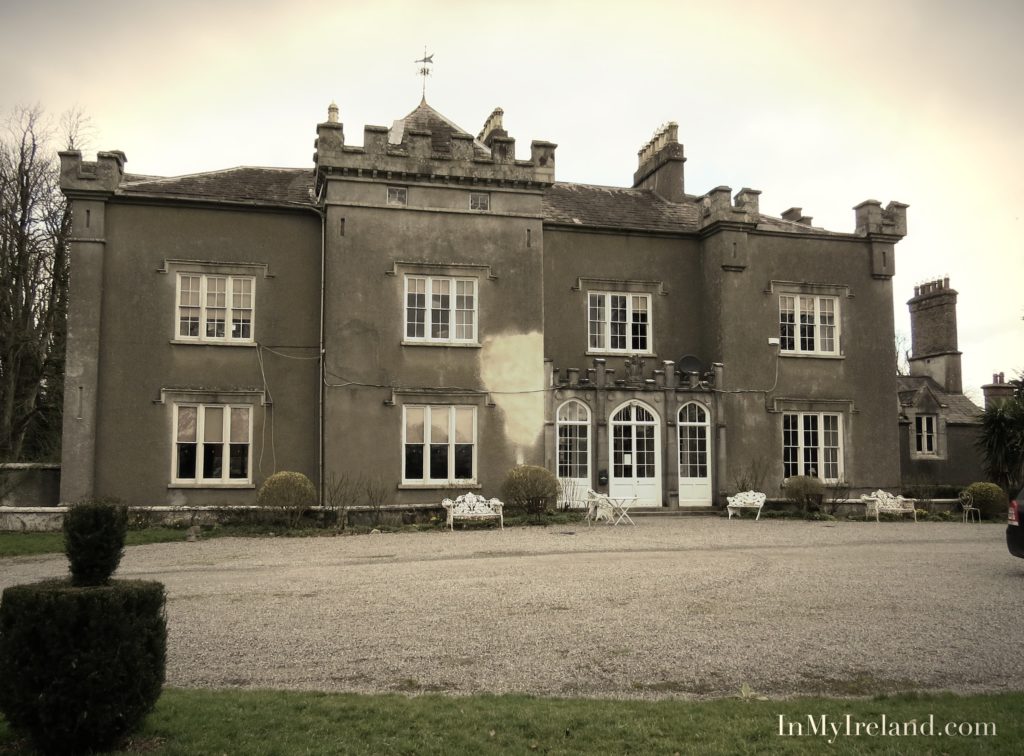 First impressions for visitors to Shankill castle, near Paulstown on the Carlow/Kilkenny border, may be confusion, or a perhaps little annoyance, after having arrived at the gates to be told to use the other entrance, a short drive down the road, take the left turn, then turn back to the castle. Why then? It appears this arrangement is due to one of the many ghost stories and legends surrounding this beautiful Manor House.
According to legend years before a local priest proposed using the pathway leading from his church nearby, to the castle, as public amenity. This was met by opposition from a staff member, or some say the owner, of the castle. Their disagreement turned into a fierce argument, resulting in the death of the holy man. It is believed that as the priest  lay dying, he cursed the castle's gate and grounds, vowing that the gates would never close and the grounds would become overgrown.
The gates it is said would repeatedly open at night, despite being locked and tied by chains. And the grass and vegetation became so unruly, that eventually a new entrance had to built. Perhaps the latter was because of the reluctance of the grounds keepers to tend the area, as the restless spirit of the priest is said to have been seen and heard walking up the stony path to the castle?
Another of the castle grounds' ghost is the well known and much reported ghost carriage which have been heard crunching against the gravel. Occupants of the castle also mentioned hearing a visitor at the door, only to find no-one there when they answered the summons.
The castle itself is said to be home to several spirits.
Oliver Cromwell's troops, who took over the castle in its early days, have been seen by visitors, roaming the basement of the castle.
Paranormal investigators have reported unexplainable temperature drops and hearing the sounds of a little girl crying.
Shankill Castle was built in the early 18th century by the Aylward family and their vault lies in the graveyard in the grounds. In the past, cemeteries were often a target for grave robbers and Shankill Castle was no exception. In the 1700's Peter Aylward's body was placed in the vault, but his remains were stolen and never found. His ghost has been seen in what used to be his bedroom and the upstairs corridor of the castle.
There have also been reports of hauntings, including sighting of the apparition of an elderly lady in the "blue room" of the castle.
The castle is accessible and open to the public for visits and events. More information at: https://shankillcastle.com
Are you brave enough to visit?