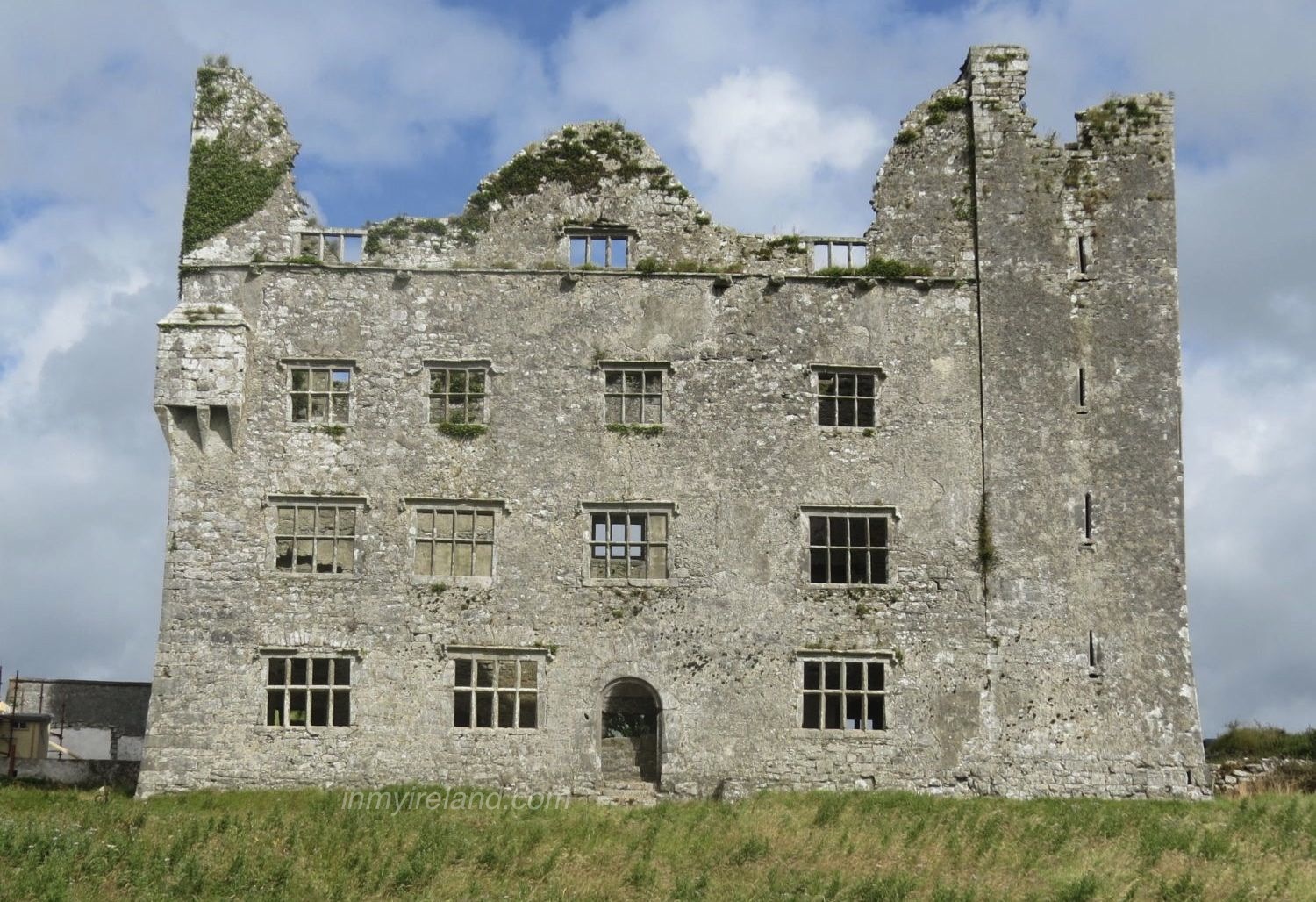 Leamaneh castle is a well known landmark in the Burren, situated on a crossroad between the villages of Corrofin and Kilinaboy, it can be viewed from the roadside, but due to it's state of disrepair and location on private farmland, is not accessible to the public. It is however highly recommended as a quick stop during a visit to the curious Burren.
The castle's name "Leamaneh" is believed to be derived from the Irish léim an éich which, translated into English means "the horse's leap" or léim an fheidh ("the deer's leap"). It was built circa 1480-90 as a 5-storied Irish tower house, probably by Toirdelbhach Donn MacTadhg Ó Briain, King of Thomond of the O'Brien family, one of the last of the High Kings of Ireland.
In 1543, Turlogh Donn's son, Murrough surrendered his title of King to Henry VIII and was created in 1st Earl of Thomond and Baron Inchiquin. In 1550, Murrough gave Leamaneh castle to his third son, Donough, who was hanged in Limerick in 1582 as a rebel.
In 1639, Donough's grandson, Conor O'Brien, married the castle's most famous owner, Máire ní Mahon (MacMahon), better known as Máire Rúa ("Red Mary"). She was the daughter of Sir Torlach Rúa MacMahon, Lord of Clonderlaw and her mother was Lady Mary O'Brien, daughter of the third Earl of Thomond. Her first husband, Daniel O'Neylan of nearby Dysert O'Dea Castle, died young and upon his death, she gained control of his substantial estate and a £1,000 fortune. This wealth enabled her and Conor to build a more comfortable mansion on to the original tower house at Leamaneh around 1648.
Brave Máire accompanied her husband on raids against English settlers, but in 1651, he was mortally wounded fighting on the Royalists' side at Inchicronan (Crusheen). Máire, realizing that the punishment for his rebellion against the English would be the forfeiture of their property, put on her finest dress and drove her carriage to Limerick city, where she offered to marry any Cromwellian officer who "had the courage to ask for" her hand.
The brave man who became Máire's third husband, Cornet John Cooper was a Cromwellian soldier and through this marriage she successfully retained her estates. Cooper left the army and amassed some wealth through land and property speculation. However, he later ran into financial difficulty and, as a result, the estate which he had married into at Leamaneh, which he under law now owned through his wife, was mortgaged to repay his debts. According to legend, Máire murdered him one night when he was drunk, by throwing him out of a window at Leamaneh castle.
During the 1660s, Cromwellian troops were stationed on and off at Leamaneh castle. Máire Rúa's son, Donagh or Donough (after 1686 Sir Donat) stayed there until 1684/1685, when he moved the family seat from Leamaneh to the much larger Dromoland Castle in Newmarket-On-Fergus, south of Ennis.
Leamaneh had various occupants in subsequent years, but the house finally fell into ruin at the end of the 18th century. The barbican-like gates which used to adorn the entrance to the property were moved to Dromoland Castle in 1906 or 1908 by Lord Inchiquin. They are still in the grounds in there.
The most elegant of the fireplaces of Leamaneh castle was relocated to the "Old Ground Hotel" in Ennis, where it can still be found today.
Nearby castle:  O'Dea Castle – County Clare